January 1, 2019
Yusuke
"What are you most looking forward to in 2019?"
"Good surfing!"
January 2, 2019
Autumn
"I'm off from school so I've been relaxing, spending time with family and friends. Now that I have free time, I've been able to go out and discover some stuff in the city."
"Like what?"
"Thai Select. I had the chicken pad thai, it's just really good."
January 3, 2019
Malik
"I'm here for a few months, helping the owner. In Pakistan, I am a phone repairman, I have my own business. But I like to travel, and I like to eat."
"Where do you live in Pakistan?"
"In Islamabad. It is very, very beautiful in northern Pakistan. There are mountains and waterfalls. We go to the country, my whole family, like 70 cousins, and have barbecues."
January 4, 2019
Shelley
"Always happy to help a fellow artist."
January 5, 2019
Ayaka
"I've worked at Japan Village for one month. But I was at a Sunrise Mart in Midtown before that."
"Are you originally from Japan?"
"Yes, in Tottori Prefecture."
"What's it like there?"
"It has mountains and the ocean. There is a mountain there that looks like Mt. Fuji, and people will go there and take pictures of it instead of Mt. Fuji because it's easy to get to."
January 6, 2019
Alex
"I haven't really been riding it enough to justify the expense, it's a bit of a luxury at this point ... but there's something about the independence that I really like."
"That's important, though!"
"Earlier today I was riding around Manhattan for fun. I know that sounds a little weird, but there's something special about the views when you're going over the bridges, when you kind of own the streets a little."
January 7, 2019
Mikaela
"I'm bringing some stuff to my girlfriend's place in Windsor Terrace, and then moving up to The Bronx later tonight."
"It's already 5:30, that sounds like a lot."
"I'm also looking for a second job because my teaching gig doesn't cover it. And I'm looking at grad school."
"Holy moly. School for what?"
"Well, I was getting a Phd in theater, but decided I cared more about helping people, so I want to get into systems-involved mental health counseling. Foster care, or to help people who are in and out of detention. I want to create spaces where people—girls, especially—can feel honored."
"Wow. Do you get to relax at all?"
"Tonight we're going to meet up with friends to watch The Bachelor. I've never seen it, but I hear that's what people do."
January 8, 2019
Donald
"I started shooting photos about a year ago because I was playing too many video games, and it's something else to do. On my days off, I come here or go into the city, shoot, and meet people. Today we're probably going to SoHo."
"And did it work? Are you still playing video games?"
"Only when my friends come over."
January 9, 2019
Drew
"I'm hopefully signing a lease on my first apartment today. My roommate is coming here to see 'If Beale Street Could Talk', and then we'll talk. We're approved, but we're trying to negotiate an earlier move-in."
"When you came to New York, did you know you'd be moving here?"
"No. I came to New York from Texas for a 10-week program at the Met, and then I fell in love with all of the people I've met through work, through friends ... and just started to build a life here in a way that I didn't expect."
January 10, 2019
Briscoe
"It's hard to say, there are so many different types of photographers. But for documentary, maybe Gordon Parks and Dorothea Lange."
January 11, 2019
Erica
"What do I do for a living? Oh, maybe four or five things. Artist, professor, etc. Then there are the less interesting jobs."
"Like what?"
"Oh, I don't know. Prop stylist."
"That's actually interesting, sorry."
"Well, assistant prop stylist."
"Still interesting."
January 12, 2019
Luisa
Santa Ines is in Puebla." (When asked about the name of her store/restaurant offering "Gran Variedad de Productos Mexicanos" around the corner from my house.)
"You're from there, yes? How long have you been here?"
"Diez anos."
"Are all the cooks here from Puebla? The food is delicious."
"Si."
"What's something I should eat that is special to Puebla?"
"Chile Poblano."
January 13, 2019
Matt
"I just want you to set it up so I can come by and spin some records."
January 14, 2019
Cynthia, aka Delilah
"I just came out of the house looking every type of which way—I didn't know I was going to have my picture taken!"
"Well, you look great."
"Thank you! I look forward to seeing your face again!"
January 15, 2019
Javier
"Only one of use needs to bring her to daycare, but she goes to bed early and I come home later, so it's good to spend some time together."
January 16, 2019
Prahil
"I'm from Nepal. I've been here for two years."
"Do you like working the night shift?"
"It's ok... you get more hours this way."
"Do you get strange customers at night?"
"Not really, this isn't a bad neighborhood. We get a lot of cab drivers and young people."
January 17, 2019
Mat
"After this I have to go do some base painting—painting whole walls a solid color. It's ok, but this kind of stuff is fun."
"And it must be nice to be inside on a day like this."
"Definitely."
January 18, 2019
Nutcha
"I like to take pictures, too, but I'm not a 'photographer.'"
"What do you like to take pictures of?"
"Scenery, views, beaches..."
"Do you go to beaches around here? Which ones?"
"Far Rockaway. But I also go there because I'm learning how to surf."
January 19, 2019
Janet (with Alma)
"This is just the perfect age, isn't it?"
January 20, 2019
Frank
"Before I move on to the next thing I've actually been thinking about taking some lessons or something, so I can move beyond what I've been playing a thousand times. I picked up the guitar the other day and the same old stuff was coming out. I also know that I don't want to be the guy booking the rehearsal space, hoping everyone else will get into it."
January 21, 2019
V. Simone
It was very moving. I especially liked when Tarana Burke talked about the start of the Me Too movement. I was also moved by the Brooklyn Interdenominational Choir singing 'We Shall Overcome.'"
"Did you cry? I may have shed a few tears."
"Yes, I did."
January 22, 2019
Rachel
"I've been going nonstop since well before this festival. It's like, 'Sleep? What's that?'"
January 23, 2019
Abdallah
"I came to New York from Guinea one year ago."
"What do you do when you're not washing cars?"
"I'm going to school, studying English."
"It must be a hard language to learn."
"Eh, It's better to know than French, because it's the international language."
January 24, 2019
Brooke
"I don't know if I was totally ready to come back. I probably could have lived there for another six months. After a year, I had made real friends who I'm going to miss. Like, a good friend is opening a restaurant—I would have liked to be there for that."
January 25, 2019
Amanda
"Somehow my life's most hilarious moments have all revolved around potato chips."
"What about today's most hilarious moment?"
"That my Grammy dress is in my backpack? Maybe that should be the title of my next book."
January 26, 2019
Nick
"Tips up, gentlemen!"
January 27, 2019
Frank
"Sometimes we like to talk about it, playing out multiple scenarios for what our lives could be like elsewhere, outside of the city. Last weekend we talked a lot about moving to a 'Tier 2' city, something smaller. But then by Monday, that was it. She woke up and was like, 'I don't want to leave.'"
January 28, 2019
Pio
"I actually got in an accident this morning; probably sprained my finger."
"What happened?"
"Fed Ex guy stepped out of the truck into the bike lane right as I was going by. I ended up on the ground."
January 29, 2019
Mathew
"Our school doesn't have a JV basketball team, so even though I'm a sophomore, I'm trying out for the varsity team. I'm trying out late, though, because I got injured."
"What happened?"
"I was playing on concrete too much. It's bad for your body. So now I'm only practicing on hardwood."
January 30, 2019
Troy
(Somehow we established that he works with a very good friend of mine at The New Yorker and that he had just picked his kid up from school, but I didn't get a real quote from Troy. Of course—the one guy I'd want to impress with my quote-gettin' skills! What can I say, we had a snow squall, y'all, and I was late for pickup myself.)
January 31, 2019
Brian
"If you take one of those DNA testing kits, you can find out all kinds of stuff. Like, you might learn a bit about why your eye isn't healing perfectly. Some ethnic groups are more susceptible to keloid scarring."
February 1, 2019
Vilina
"My Chinese New Year horoscope says that I'm supposed to have a very awesome year filled with opportunity—and that I should put back-burner projects to the front. Which means I might just become a superstar pottery maker/rock climber."
"How much do you believe in your horoscope?"
"I definitely take it with a grain of salt, but because this one is so positive, I'll believe it."
February 2, 2019
Suzy
"I told my son before we opened, 'Can we deal with being around each other all day? I don't want to become your enemy.' We had some rough patches, but we got through it."
"How'd you deal with it?"
"By talking about it, and bringing on some help."
February 3, 2019
Damian
"I stopped dancing 20 years ago, when I left Mexico. But I started doing it again one week ago. I'm practicing. One day, I'd like to teach Mexican dancing in a small school somewhere."
February 4, 2019
John
"I'm fixing it up a little—it's looking like there's a chance I may retire here."
"So you think you'll stick around? You've lived on this block a long time."
"Yeah, I mean, I have a lot of family here, across the street and down the block. I know the neighbors, a lot of them have been here awhile, too. If I moved to Jersey or something, if I heard a gate slam at three in the morning, I'd worry about who it is. Here, I don't have to worry about it, I know everybody."
February 5, 2019
Freya
"They called one of the birds Robin, but they looked like penguins."
February 6, 2019
Guillermo
"I'm on my way to a run-through rehearsal of 'Pepperland' at Mark Morris. I'm looking forward to it- the full band will be there. They have a theremin!"
"Are you into dance?"
"I used to be a dancer, until my knees gave out. I've known Mark for a long time, I was in many of his productions. I just really enjoy how he can evoke a feeling through movement. Like in music, how a certain chord can make you feel melancholy, or joyful—good dance can do that through movement. There's something really special about that."
February 7, 2019
Jaero
"I'm from the Dominican Republic—I've been working here for six years."
"You guys just started selling this very fancy beer. Do you think it's crazy that I pay 20 dollars for four cans?"
"No, they must be putting something very good in it, it sells very well!"
"What kind of beer do you like?"
"It doesn't matter, as long as it makes me happy!"
February 8, 2019
R.J.
"I've been selling them since 2010, but only started doing it full time in October, when I got laid off from my bar back job in the East Village."
"How's business?" "I've only been shut out once. The other day when it was pouring rain I only sold one, but yesterday I sold 10 or 12. To tell you the truth, this neighborhood's been good to me."
"What's the most popular title?"
"I sell a Spider-Man almost every day."
February 9, 2019
Sadia
"I'm in my second year studying political science at City College. I want to change things. I want to make sure there aren't walls. A wall would take us in a negative direction and would segregate people, when we should be uniting them."
"Where are you from?"
"Brooklyn. My parents are from Bangladesh."
February 10, 2019
"It's my 82nd birthday. Let's not talk about politics."
February 11, 2019
Jennie
"I was in film production, and then one day I looked at all the actors and thought, 'Hey, I'd rather be doing that!' Now I go to school for acting two days a week at William Esper—when I'm not here at daycare."
February 12, 2019
Tristan
"I've been working here for two years."
"When I walked in, you were shoveling out front, and you were really nice and welcoming, greeting me on the way in. Are you always like that when you're working?"
"Yeah, I am, but when it's snowing like this, it's slower, and being extra nice keeps it from being boring."
February 13, 2019
Steven
"Technology doesn't have to make us feel like we're falling behind. It can help to bring us to our present and our future. We get stuck in our own narratives sometimes, and tech can show us that new things can happen, and then we're in the moment. The question for me is: How do we capture that idea not only on an individual level, but cooperatively?"
February 14, 2019
Sabrina
"After two degrees and four and a half years working as a costume designer for film and TV, I'm looking to do something else. I don't know what, though. I stopped in December when my last show ended, and now I want to figure out what the goal is."
"That's kind of scary but also exciting, right?"
"I haven't regretted it yet."
February 15, 2019
Rhea
"There are a lot of new faces, and it's great to see some familiar ones. It smells the same, though."
"I always find it to be very surreal, visiting the place you worked for as long as you did."
"I actually dreamed about coming back last night."
"How is it, living in another city?"
"I like it, but I realized that I think I'm a New Yorker at heart, and I don't know if that'll ever change."
Februaru 16, 2019
Aliya
"Knowledge is power and it doesn't cost anything to give away."
February 17, 2019
Angelo
"I'm originally from Brooklyn. I went into the military—did artillery in an infantry combat unit. Then I became a federal officer, in Homeland Security. TSA. After that, I went to college in Miami, and now I'm studying acting at Stella Adler. My military pension covers most needs, but I'm a single person living in New York, which can get expensive, so I work here."
"Do you think that maybe you're the world's most qualified person to be a security officer at the Museum of the Moving Image?"
"I'd have to say the most OVERqualified, but yeah, probably."
February 18, 2019
Danny
"I've known all about plants since I was 10. My father owned a store."
"Do you have a lot of plants in your home?"
"Oh yeah, it's packed in there, they're all you see. I wish I had more space."
"What's the secret to taking care of them?"
"Patience. A lot of patience."
February 19, 2019
Lidia
"I got back to New York from LA this morning. I was visiting family, right in Venice Beach, and didn't want to leave. It was chill, now it's back to reality. I even had school this morning."
February 20, 2019
Jenny
"I work with people who have a history of substance abuse, and help them find less violent ways of communicating. I advocate for finding a higher power, or finding the arts. Abuse is a symptom of spiritual bankruptcy. To paraphrase Watts, if you think the purpose of life is to be happy, you're f-ed."
"And what is the purpose?"
"To find meaning, which is individualized."
"And what is the meaning, for you?"
"To transform consciousness, or develop— oh, sorry, this is my stop, I have to go!"
February 21, 2019
Olithea
"I'm on my way to a career development class, from my side hustle: teaching at Brooklyn Music School."
"What's your main hustle?"
"I'm a singer."
"Usually it's the other way around... singing is the side hustle."
"It's my main one, but I have many side hustles. I'm a singer at a church, a nanny, I write music, I curate a show, I have a monthly residency at Soco..."
"And yet you're going to a career development class!"
"Hey, it's what you do."
February 22, 2019
Country and Justus
"We're going on a ski trip. But we're not skiing."
"Why not?
"We've been going on this ski trip for years, but we haven't skied once. We party in the hotel all weekend."
February 23, 2019
Digna
"I've been here for four years. I work with my uncle."
"What do you think of New York?"
"The money's better here. There's no work in Ecuador."
"Do you send money home?"
"Yes. In two years we might go back."
February 24, 2019
Gina
"I've been interested in digital media since I was a little kid. My parents are biotech people, and weren't interested in the artistic side, but I went to some digital arts museums in San Francisco when I was in middle school, and I was, like, 'Wow.' Now, I'm really into the storytelling that can go behind it, especially with animation and VR."
February 25, 2019
Ismail
"I owned a restaurant in Chelsea, but sold my share to my partner, and started as the night manager here four months ago. I have four-year-old twins, and I live two blocks away, so this is more convenient."
"Did running a restaurant prepare you to be the night manager of a 24-hour market serving customers from all over the world?"
"It's all hospitality. I know how to talk to people and make them feel welcome. Also, I've lived in this neighborhood for 11 years, so I know the people."
February 26, 2019
Riley
"We're reading Notes on 'Camp' by Susan Sontag for the book club I run. I've read it out loud to four different people already."
"Why?"
"It fucks with you. It's Sontag. It's a love letter to the gays, and she's subtweeting someone she hates half the time."
February 27, 2019
Erika and Rawska
"We're going to the park to shoot his music video."
"What's your song about?"
"Separation."
"What does it have to say about separation?"
"That if you want to be with me, there's a price you have to pay."
February 28, 2019
Jae
"Tattooing found me. I was into punk rock, skateboarding, hip-hop, anything off the beaten path. Anything counterculture. I was drawing a lot by 15, and when I was 17, a friend introduced me to a tattoo artist, and that was it. It was the summer of '93, and when they asked me if I wanted to start doing tattoos, I was like, 'Fuck yeah,' and I've been doing it ever since."
March 1, 2019
Cara
"It's easier. So many things are just easier. We can get in the car and go to Whole Foods in five minutes. The kids can run around. We have a friend who stayed with us last night who lived her whole life in New York and recently moved to Berlin, and she was saying how you don't realize, at the time, that there are other ways to live; that there are places where it's not such a struggle and making a living isn't the only thing that's important."
March 2, 2019
Emma
"I'm an elementary school science teacher at the Mary McDowell Friends School. I was an art teacher but started teaching science a year ago. I'm not really sure how that happened."
"How does it compare?"
"It's not actually that different—you're kind of doing the same things, at least at the elementary school level. Building things, experimenting, and figuring out why."
March 3, 2019
Buzz
"We've been here for 54 years. When slot cars first came—from England—it was crude. We did it in basements and living rooms. At the time, I worked with my father, selling barbershop equipment and furniture. Then The Beatles came to the US, and 1200 barbershops closed—men weren't getting haircuts. Slot cars had just become commercialized, and he said 'this thing you're doing—it's an all cash business.' I was 28 or 30 at the time."
March 4, 2019
Jahvon
"I moved to Brooklyn from Florida six months ago. It's a big place; everything's here. I model, I started a clothing label, and I make music."
"Is there anything you want to say to your future fans?"
"Keep an open mind. Most people have a closed mind, they want to stay in their box—but we're supposed to venture out and experience new things."
March 5, 2019
Selah
"I'm a cook around the corner."
"Do you like it?"
"It's lucrative. The time goes by quickly. What time is it?"
"It's 5:45."
"See? I started at 12, and it feels like I just got here."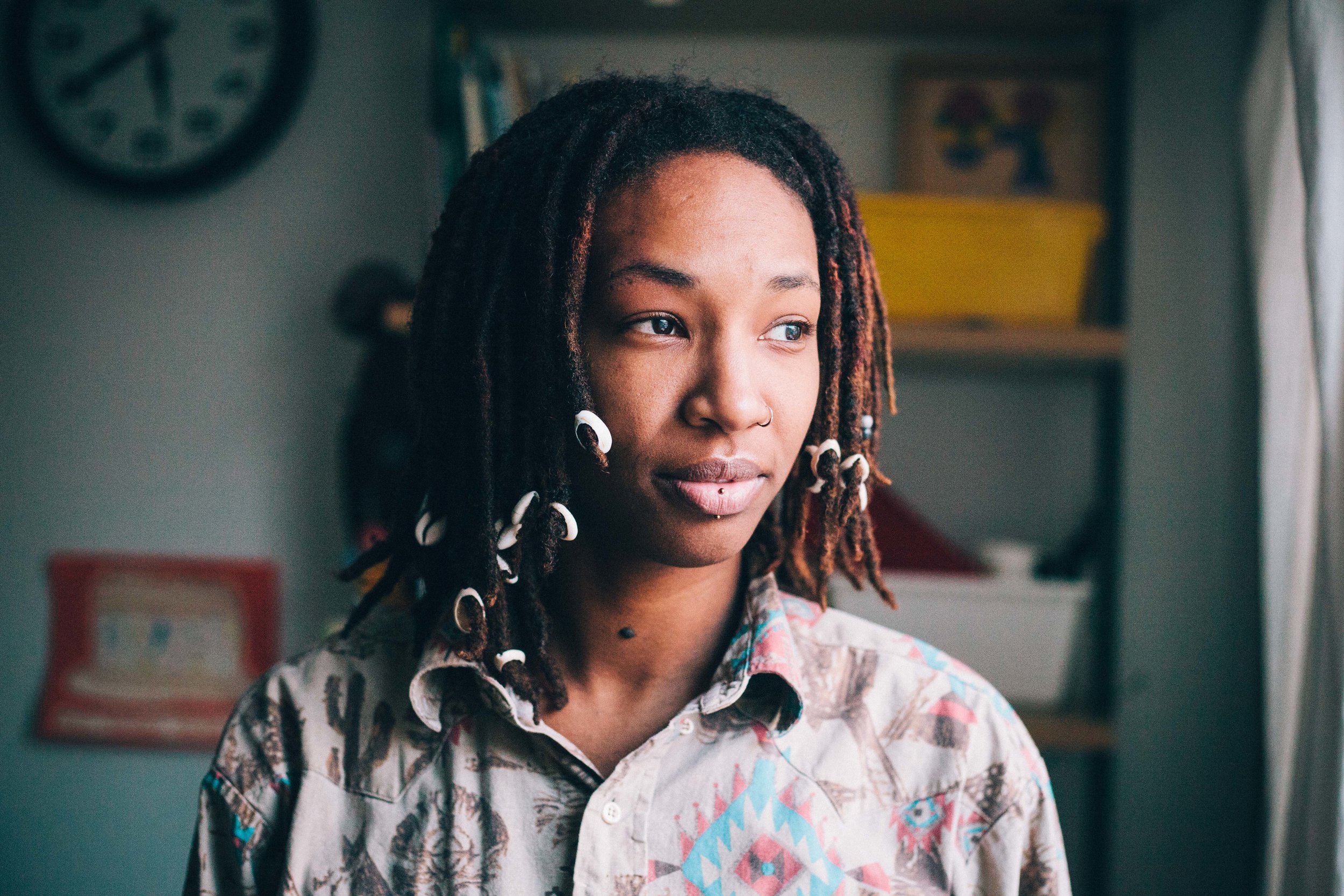 March 6, 2019
Alayne
"I've been sketching and painting since I was five. It's meditative, my creativity is sparked, it's healthy, and I feel good when I'm done, because I really like getting feedback. It's how I can grow as an artist."
March 7, 2019
Brielle
"I was trained as a visual artist, but I had a juvenile approach to it it. Learning about theory was cool, so I got into writing. I'm probably better at writing, but words aren't truth. I know I sound like a 16 year old or something, but—I want to make them reflect what's actually real. I just don't know what that is yet."
March 8, 2019
Jacqui
"I'm not really afraid of the change, and I'm happy for us. What I'm afraid of is when he's traveling. I'll be at home, after giving up a good job and a life in a neighborhood that I liked, wondering what the fuck I'm supposed to be doing. So I'll probably spend a lot of time in the city."
March 9, 2019
Caleb
"I'm constantly moving, always going somewhere, doing something. I go to a few shows a week. It takes a lot for me to hit that wall. It helps that she's more of an introvert, and I like spending time with her at home even more than I like going out. We balance each other. I just have to try not to wake her too often when I come home late with a bodega sandwich."
March 10, 2019
Emily
"It's my hope that everyone can discover the magic and love their body has to offer. Expressing ourselves through our bodies and through movement is joyful, healing, and connects us to our power. What my clients begin to realize is that when you love your body, it loves you back."
March 11, 2019
Nick
"Racing season starts in two weeks for me, with the first CRCA Club Series race in Central Park."
"Think you're ready?"
"Oh, definitely."
March 12, 2019
Elaine
"I almost made it to Whole Foods!"
"And then I stopped you. Do you live around here?"
"Actually I'm here for one week. I live in London for now, but I'm here placing in a modeling agency."
"Of course! You're a model! How did I do?"
"You gave good instructions... you were easy to work with... you have a good energy..."
"... and I'm fishing for compliments, obviously."
"Facts!"
March 13, 2019
Eka
"I started acting! It's a long story. I started an Afrobeat dance fitness brand, shakara.nyc, and after one class this student was like 'I'm going to an audition, you should come!' It turned out it was for BlacKkKlansman. It was the last three days of filming. I got there, Spike Lee signed me up, and I even got a speaking part. So my first unintentional movie won an Oscar! Since then I was in Law & Order and now I'm probably going to be in some other stuff. I've caught the bug!"
March 14, 2019
Barry
"I spent about four months hitchhiking."
"Why'd you stop?"
"The only thing that turned me off was getting caught in the rain. But the main idea was to touch the Pacific and come back, and if anything caught my attention along the way, I'd stay there. I was looking for a music scene, but I also I felt like I had some unfinished business here. It's been three or four years since then. I'll always have that wanderlust, though.. Luckily I've been able to travel—I was backpacking in Peru for a little bit."
March 15, 2019
Wavi
"I'm from Bangladesh. I came here one month ago."
"One month! Welcome to New York!"
"Thank you."
"You just came out of the mosque now, yes? I'm curious, did they talk about what happened in New Zealand in there?"
"I heard about it this morning. No, they didn't talk about it. But it is very sad."

March 16, 2019
Pierre
"My fingers are getting cold, so I don't know how much longer I'll be able to play today."
"When did you start playing playing the recorder?"
"When I got into paganism—wiccanism—around 1970. I was listening to Margot Adler on BAI a lot. She's not around anymore. I was a graduate student for awhile at NYU, studying philosophy."
"As you're a pagan philosopher, I have to ask if you can tell me one of the more important things you've learned."
"I guess it's: Stay alert. Don't take anything for granted."
March 17, 2019
Lindsey
"I make mosaics and I teach physical computing."
"Quite a difference there..."
"Ancient art and future tech. They balance each other out."
March 18, 2019
Cici and Madonna
"We've known each other for 15 years. We're always together."
"Except I moved to Queens."
"And I moved to Jersey for a bit, but moved back to Brooklyn."
"So we'll get together here. I pretty much go to Queens just to sleep."
March 19
Rabia
"I moved from this block to East Flatbush two years ago, but my cousins still live here. We used to play out on this street all the time; then we all got older and now we have less time."
"How do you spend your time now?"
"I just graduated from Hunter. I majored in biochemistry... and now I'm taking a year to figure out what I'm going to do next."
March 20, 2019
Coco
"I go between groups. One day I'm sitting with the popular kids, and another day I'm not. Fifth-grade girl drama is crazy. Something will happen and then it'll turn into this whole gossip train."
"Fifth grade is hard, huh."
"You don't even know."
March 21, 2019
Mir
"I have a lot of clients who drive taxis."
"Do taxi drivers have special considerations come tax time?"
"Well they don't get their taxes withheld during the year, so they usually end of owing between $3K and $5K."
"This must be a busy time for you."
"It's busy, but I'm busy all the time, because I also run this deli, you know."
March 22, 2019
Fabio
"He's a bit hyperactive, but he's a good dog."
March 23, 2019
Jessica
"I'm definitely less anxious and more relaxed than I was when I was younger, but on the other hand, I'm also more aware of the things I'm not in control of."
March 24, 2019
Kevin
"I'm getting another radio show! Friday nights from 12-3am on WHCR. It's been awhile. The best thing about having a radio show is low-key fans I never knew about popping up and saying, 'Where were you last week?' or finding out there are Haitians in Chile listening every week. I'll be playing mostly Haitian music, but I'm taking over the time slot of a long-running house show, so I want to make an easy transition."
"What's your show called?"
"The Cosmic Compendium. Yeah, they were like 'OK, sure...'"
March 25, 2019
Juan
"I've been in this neighborhood for 20 years; in 2000, it was crazy. Now it's very nice."
"How long have you been at this deli?"
"I've owned this store for five years; a relative had it before me. Before that I worked for someone else, at another deli, making sandwiches."
"Do you like this more?"
"Yes, but when it's your own place, you work harder. If it's empty, no one will buy anything."
March 26, 2019
Ian
"I started playing the drums one week ago."
"Oh yeah? What's your favorite thing about the drums?"
"The cymbals."
March 27, 2019
RIham
"We're protesting Batsheva Dance Company, which is performing under the auspices of the Israeli government in an attempt to whitewash the Israeli crimes against the Palestinian people in Gaza and the West Bank and historic Palestine. By accepting government sponsorship, they've become one of Israel's best-known cultural ambassadors, and they've stayed silent in the face of the atrocities."
"Have you ever seen a Batsheva performance?"
"No, other than the videos we've watched so we can prepare."
March 28, 2019
Greg
"You have to be ready for unexpected miracles. You have to be open, but also cautious. You can lose everything in an instant. I'm from New Orleans. Everything was stripped from me during Katrina. After that I relentlessly pursued my passions. We went to Natchez, MS, right after that, and that's when I really went within. I don't want to say it was the best thing that ever happened to me, but it did put a spark in me. My mother might not feel the same way, having gone through it raising eight kids—but I've been releasing music since my junior year of high school."
March 29, 2019
Hoda
"I'm a student at Pratt, studying animation."
"What do you want to do when you graduate?"
"I don't know. Win an animation festival with my film, maybe?"
"What's the film about?"
"That's complicated. It's about learning something from the past, and not forgetting where you come from."
March 30 2019
Beth
"I don't know how I became the top fundraiser in NYC. I guess I just have a bunch of friends from different parts of my life; the support I've gotten from so many different people has been really inspiring. Also some stage 4 survivors reached out, which was encouraging."
March 31, 2019
Jermaine
"I was born Rastafari but I really came into it much later, in 1999. I wasn't happy with the way things were, and wanted change for myself."
"And how do you feel now?"
"My mind, body, spirit soul, everything is aligned."
April 1, 2019
Kaylynn
"He was a foster puppy who we fell in love with and bonded with. He's a 'sato' dog from Puerto Rico, rescued by Stray From the Heart, that they found along a rural highway. He was a puppy and had no proper socialization, eating concrete and soil. We take him to a trainer, we're trying out a new medication—it's pretty intense."
April 2, 2019
Nick
"I lived here for five years in the '80s; I live in Napa Valley now. I go back tomorrow."
"How do you think New York has changed since you lived here?"
"The rich are killing New York. This may not be the case in Brooklyn, but I used to live in the East Village. What happened to all the variety? It's so homogenous, like one big frat party."
April 3, 2019
Jessie
"I'm a writer. Essays, magazine articles, a book... I also teach writing at the New School and at City Tech."
"What's the most important lesson you teach your students? If you had to name one." "I want them to know that's a craft, and like any other craft, it takes practice, time, patience, and perseverance."
April 4, 2019
Alisa
"Ivo (van Hove, the theater director] is great. But I don't think this was his best."
"This was his first opera in New York. Are you more of a theater person or an opera person?"
"Theater. I think I just didn't 'get it.'"
April 5, 2019
Jasmine
"I'm just so happy, and my whole family is so proud of me. My mother never got a higher education and she made it so I could have one. My goal was to have my first full-time job, with benefits, by the end of April, and I'm starting on Monday. I don't really know what to expect. But I'm just so happy."
April 6, 2019
Isiah
"I started riding less than a year ago. I could do BMX tricks, I got into downhill mountain biking, and then I thought I needed to step it up to the next level. If I had known how much fun it was, I would have done it earlier. It's good core exercise, you have total balance, you're in full control. You focus your mind and your body. I'm 46, and when I'm riding, I feel like I'm 12."
April 7, 2019
Richard
"Do I have any goals for the next year? Not really. To stay alive? I think that's enough."
April 8, 2019
Mike
"We weren't planning to hang out. One guy came over with a sandwich, another guy brought some Dominican rum, and here we are."
April 9, 2019
"I've been working on bikes since I was little. In New York, I've been doing it for 15 years. Before this shop, I was at R&A Cycles in Park Slope."
"Where are you from?"
"A town called Tecamachalco, in Puebla, Mexico."
"There are a lot of people from Puebla around here."
"Yes, this is 'Puebla York.'"
April 10, 2019
Maria
"Here comes the king! How is my king, is he sleeping?"
(She says this every day, even though he's never sleeping when we cross the street, and he always smiles at her.)
"Look, he knows me, he knows my voice, he's smiling! God bless you, sweetheart!"
April 11, 2019
Matt
"She's been really shy around cameras lately... I think I was sticking them in her face a little too often."
April 12, 2019
Andre
"I'm an artist too. Music, art, photography... During the day I'm a peer specialist, using art as a wellness tool."
"How does a multidisciplinary artist such as yourself decide what project to work on at any given time?"
"I just go with the energy, if it's a beat that hits me, or a concept for an instrumental..." "What's the latest thing you're excited about?"
"An album. For my mom."
"Why's it for your mom?"
"I've got more than enough tunes that she would enjoy, and she's my best friend."
April 13, 2019
Andy
"Having kids has also changed my relationship to my parents, in a good way—it's added a dimension, another way for us to relate to each other. While they've always been so supportive of it, my career as a lighting/production guy, along with my life in New York, may have made it hard for them to have a frame of reference. But now they have one."
April 14, 2019
Matt
"We're Extinction Rebellion, which is focused on disrupting the status quo in regards to climate change. We're insisting that the city's government puts us on a track to be carbon neutral by 2025. We realize that it's a really close date, but the point is that the time is now. In the UK, Extinction Rebellion is huge—there are like 200,000 on their mailing list; 2,500 recently volunteered to participate in arrestable acts of civil disobedience. My friend from high school brought it here from there, and on Wednesday morning we have 70 people prepared to be arrested at City Hall."
"Have you been arrested?"
"Yeah. It's pretty easy—you basically wait around for five hours. It's like any going to the DMV. There's no fine, no jail time, other than the five hours. Their slow machine is the punishment."
April 15, 2019
Bellynda
"Everything is different from Haiti. I came here in 2016. My mother and my father are here, but I miss the rest of my family. I'm looking forward to finding a good job... I'm in school for nursing. I want to be a pediatric nurse. It's difficult, though–I've been working here for two years. You have to study, but you also have to work. New York is hard, you have a lot of bills to pay. Things are very expensive here."
April 16, 2019
Omar
"I'm a Marine on leave from my MOS [military occupational specialty] school in Virginia, where I'm studying ammo tech. I asked my recruiter to send me home to Brooklyn."
"This is kind of a strange question, but I feel like the Marines have a lot of mottos. Do you have one for yourself?"
"'Respect the past, create the future.' I'm going to get it tattooed. To improve and be productive you have to learn from the past. Everything you live through is worth respecting and learning from. To be honest, my past was tough–I was separated from my mom when I was five, went to live with my grandparents for eight years, and then went back to her. It was tough, being separated."
"And what did you learn from that?"
"Sons needs their moms. Family is important."
April 17, 2019
Shamim
"I go back to Bangladesh every year, for four months. I miss my mother, my sister, everybody. But I finally brought my wife here a year ago."
"How long have you been married?"
"For four years. And now, we have a baby, who is two months old. He knows nothing about Bangladesh."
"Will you bring him?"
"Yes, but not now. When he's a little older."
April 18, 2019
Crystal
"My English is pretty good because I watch a lot of American movies and TV shows."
"Do you have a favorite?"
"Desperate Housewives. All eight seasons."
April 19
Dorothea
"My dad wasn't always the biggest union supporter, but he understands it now; he understands the necessity of transparency, of not living in fear of one's own institution. Staff is integral to the decisions that are made and can help make the institution as great as it can be."
"How has your involvement in the organizing process been for you?"
"Beyond fulfilling. Just to be clear, others accomplished quite a lot before I got more involved, but I love getting to speak to people about their great hopes and political opinions. Some might not agree, but I think it's improved the place, even before the vote."
April 20, 2019
Robby and Remy
"Usually we sleep in the same room. Sometimes after bedtime we go into the closet and plan missions."
"What kinds of missions?"
"Different ones, like going downstairs to get Pokemons."
April 21, 2019
April 22, 2019
Juliana
"I'm here to see High Life, Claire Denis' latest film. It's always heartening when someone gets into the crux of their career at a later stage. When you're doing something because you're at the point where there's really nothing else that you do. You have to do it. It gives hope to us all. I'm young, but not that young."
"Are you working on anything right now?"
"Yes, I'm a producer, and something I'm very excited about is starting to take shape."
"Do you have collaborators?"
"Well, it's indirectly collaborative—there are a group of us all working on different things, lifting each other up. I like to spend time with givers, not takers."
"Are you a giver?"
"When I'm at my best."
April 23, 2019
Christos
"I've been in Miami for work a lot lately. It's cool, but it's also kind of the opposite of me: loud and showy. A bit vulgar."
April 24, 2019
Ryan
"I moved here from Chicago six months ago to work for Citi Bike, doing equity and community engagement, working on strategies and programs that promote bike share access, primarily for black and brown people."
"What's the reception been like? I know that in the past, bike lanes and bike share were sometimes seen as symbols of gentrification."
"People love it. We offer an amazing discount; for people in NYCHA housing and SNAP recipients, it's five dollars a month. We have listening sessions where we engage with people who qualify; it's a matter of getting people to know about it, but generally people want it in their communities. Right now it's not in all of the places we want it to go, but we're expanding."
"What do you think of New York so far?"
"I like it; you can do whatever you want here, including fulfilling work that does good things for people, especially vulnerable populations."
"Do you bike?"
"Yes, I've had a bike in every city I've lived in. Well, except here, because we have bike share."
April 25, 2019
Judy
"I do it a little bit different every night. Tonight I got laughs in spots where I don't always get them. You never really know how it's going to go each time."
"Do you get tired?"
"The hardest, most tiring part isn't delivering your lines, it's waiting while everyone else says theirs."
April 26, 2019
Otis
"I was riding in puddles!"
April 27, 2019
April 28, 2019
Sarah (with Ketchup)
"I got more into poetry around five years ago, because I hit a bottom and needed a way to relate to myself more. I discovered Charles Bukowski—I imagine his work has saved a lot of people. I dove into the darkness to find the light. A lot of my work has to do with connection, and how tragedy bridges into creativity."
April 29, 2019
Adam
"I think we intimidated the other team. Everybody contributed today! One guy said to Kevin, 'What are you, the Brooklyn Academy of Baseball?'"
April 30, 2019
Za-Asiah
"I know I want to help people but I don't know how yet. The plan is to put myself somewhere where I can see what the options are. Psychology, social work, teaching, counseling... We don't have a lot of time on Earth, and there are so many people who are less fortunate and need opportunities."
"This is all true, but was there a moment in your life where you realized this, that you wanted to help people?"
"Actually, this program, Brooklyn Interns for Arts & Culture. They gave me an opportunity. Like, I didn't really know about BAM before. I want to do the same for someone else and show them what the opportunities are."
May 1, 2019
Flora
"I've been here 18 years. The work is better here. In Ecuador, you make $10 a day. Here, I make from $80 to $250 selling churros. It depends on the weather. I make less in the winter. I go to four different spots, four different schools, every day."
May 2, 2019
Nathalie
"Before I turned 30 I went back to the gym and started working out. I wasn't feeling happy at the time. After two years of convincing, I started teaching spin classes, and now I've been an instructor for 18 years. It's funny, a lot of the things I'm good at in life are things I was afraid of. It's like, "I don't want to tell people what to do, I want to honor their intelligence"—but I'm a fitness instructor and a mental health counselor."
May 3, 2019
Matt
"I've been doing Postmates for almost two months, but today's my day off. I was just in Manhattan, watching End Game."
"How's Postmates working out for you?"
"It's ok. The tips are nice. But in Queens–for the love of God, people have to learn how to use their turn signals. I've almost been clipped, doored, bussed... it's crazy there."
May 4, 2019
Irene
"I'm going to a tea party over on Avenue U."
"Interesting. Have you been to one before?"
"Sort of, not really. I threw one once and it went off track."
"So, you grew up on the same block that my son will probably grow up. Do you think city kids are different?"
"Yeah, I see city kids as their own thing, though Manhattan kids are also different from Brooklyn kids. But we're also similar: As a city kid, you just become who you are a little younger."
May 5, 2019
Nitasha
"It's fine, I have these waterproof pants—and this is the kind of rain I'm used to from when I lived in Seattle."
"So your rode in the weather like this?"
"Of course! All the time."
May 6, 2019
Calvin
"I'm going to college in the fall, but I don't think I'm ready. I'm prepared academically, but it's going to be a new environment. Change is tough."
"What are you most nervous about?"
"Lack of diversity."
May 7, 2019
Yasani
"I listen to music every day. Music keeps you sane. I just love it. If I leave my headphones at home, I'll go back for them. I'm enrolled in school for music production in Florida—I go in August."
"Are there any new producers you're excited about it? Probably someone I've never head of?"
"PDub. All his beats are nice. Usually you'll find that producers aren't consistent, but he's always good. He works in different genres, too. He has variety."
May 8, 2019
Susan
"I'm going to meet my husband at for dinner at Junior's before going to a show at BAM. We're having a real Brooklyn evening."
"What will you order?"
"The onion soup. He'll probably have a big sandwich."
"You must be going to Mark Morris's 'Pepperland'. I work at BAM. Are you a member?"
"Of course! I'm a Brooklynite."
May 9, 2019
Karen
"I'm having a good birthday. Just got back from London. I did the laundry, we're going to look at a new vehicle—I'm picking out the color—and then I'm going to the gym, before some sort of surprise dinner from hubby. A good day."
May 10, 2019
Miles
"I'm a new media student in my second year at Purchase."
"How is it being in front of the camera?"
"It's fun. I like not having the pressure of editing; it's freeing."
"What are you going to do with your summer?"
"I'm looking for an internship, lately I've been into graphic design. I make my own zines. I'd also like to do some photography work. I have a lot of cameras I want to use."
"You seem ambitious."
"I'm a driven person- I know what I want to do with my life, I just want to get the ball rolling. I wasn't always this way—going to college really set it off and helped me figure it out. It's been very formative."
May 11, 2019
Nate
"I work at an NYU hospital, as an advocate for the patient experience, making sure things run smoothly. Basically, the idea is that a hospital should be like a patient's home."
"Do you get a lot of ridiculous requests from patients?"
"It's everything from simple requests about the AC to requests at one of our hospitals for a room that has a view of this giant dalmatian balancing a hollowed-out Prius on its nose. It's not for me to judge."
"Have you ever been a patient at a hospital, and if so, did it make you think about your job differently?"
"Yeah, it made me want to be even nicer. But I've always been empathetic, I try to put myself in their shoes."
May 12, 2019
Robin
"I'm originally from Manhattan. I moved to Windsor Terrace for love. We met 12 years ago on a blind date at his restaurant."
"I don't know much about blind dates, but that doesn't exactly sound like neutral territory."
"I remember he was holding in his stomach behind the bar, in his black chef's apron."
May 13, 2019
Shalae
"If you're meant to be somewhere, don't trouble. God has a plan for everybody."
"What about you?"
"I'll probably be the first in my immediate family, the first of my parents' children, to graduate college—I'm going to Lincoln University in the fall to study nursing. Growing up I always took on the caregiver role. My two grandmothers live with us. One has diabetes, the other has asthma. They took care of me growing up, now I help take care of them. The caregiver role comes naturally to me. I enjoy it. Also, my grandmothers are wise and can teach me a lot so I listen and try to learn."
May 14, 2019
Anna
"It's actually been awhile since I've held a copy—it's weird to hold the book and think about it as a physical object. I remember when one of my articles in the Village Voice came out, I saw someone using a copy of it to pick up dog poop, and I was really struck by the ephemeral nature of media."
May 15, 2019
Karriem
"At first I wanted to go into psychology, but I decided that rather than guiding people to solve their problems, I wanted to solve problems directly, so I'm going to study biology, and do something in the medical field. That's something I've learned here during my time at BAM: that you don't have to go down the path that you've set for yourself without questioning it, that you can change. I still have growing to do."
"What else have you learned here, as a future med student surrounded by artists?"
"Artists see everything in this detailed way that I don't. When they see a painting of a cloud, they'll go into symbolism and emotion. For people like me, who aren't artistic, we see things more straightforward."
"Any advice for future interns?"
"Stay open to new experiences. Listen. Some people know what's in your best interest better than you do."
May 16, 2019
Juan
"I'm going to the park to see if my friends are playing soccer. I go maybe twice a week. I just got off work; I work in construction, doing card drilling. I've been doing it for a year and a half; before that I worked in a deli and a warehouse. It's the best job I've had; it's not that hard, it pays real good. I get fresh air, unless the windows are up."
"Where are you from?"
"I'm from here, my parents are from Puebla. I live with them."
"Did you go to school here in Brooklyn?"
"Yeah, I went to high school but didn't finish. I'll be honest, school wasn't for me."
May 17, 2019
Farhana
"I'm going into housing law. Affordable housing stock is declining day by day. The people in this city deserve rent regulation and a decent home they can go home to at the end of the day. It's up to the next generation of lawyers to make sure the laws meet their needs—it has a large impact on the community."